"The perils of duck hunting are great, especially for the duck." - Walter Cronkite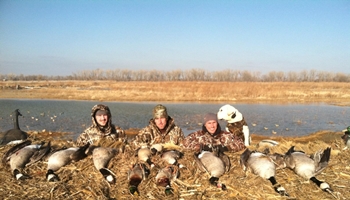 Experience the sunrise in a heated blind on the central flyway. You can combine your upland hunt at Pheasant Bonanza with waterfowl hunting for ducks and geese in the fall and spring snow goose hunts.
Imagine sitting in a comfortable blind, cooking up breakfast and having hundreds of snow geese spiraling down to land in the decoys. Hear the guide give the command, and then you shoot. You then watch as the talented dogs being handled by the guide retrieve the birds that have fallen.
Pheasant Bonanza has a private waterfowl spot off of the river and also has a reciprocal arrangement with Riverfront Hunt Club. Members receive their respective discounts.  Please contact us for details.
Missouri River Frontage

Heated blinds

Easy Access/No waders necessary

10 minutes from Pheasant Bonanza

Located in a superb Fly Away

Beautiful River Decoy Spread

$149/person half day hunt (blind breakfast provided)

$199/person full day hunt (blind breakfast & lunch provided)
---
Hunting Season for Waterfowl:
Nebraska Game & Parks Waterfowl Guide
Fall Migratory: Neb. Game & Parks
Spring Light Goose: Neb. Game & Parks
All Nebraska laws apply. Go to the permits page for specific permits required for waterfowl hunting.  Hunter safety certificates required if born after 7/1/77.
Equipment Needed:
We have most of the equipment you need in the Pro Shop.  We suggest dark flat colors or camouflage clothing, a face mask, camouflage ball cap, warm clothes (it's easier to shed clothes than to find additional layers), a 20 or 12 gauge with a plug (3 shells is maximum), steel or non toxic shot, and licenses.
---
Pheasant Bonanza is located near the Tekamah Municipal Airport - TQE (15 minutes distance) and Eppley Airfield - OMA (Omaha, NE - 1 hour distance).