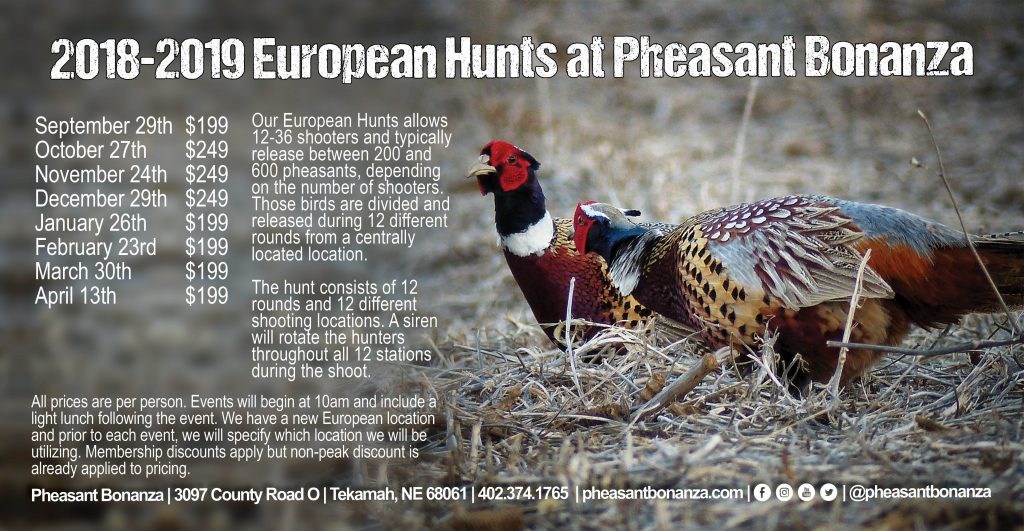 2018-2019 European Hunt Dates
September 29th - $199/person
October 27th - $249/person
November 24th - $249/person
December 29th - $249/person
January 26th - $199/person
February 23rd - $199/person
March 30th - $199/person
April 13th - $199/person
*Number of birds released depends on number of attendees. We have a new European location and prior to each event, we will specify which location we will be utilizing.
---
---
Starting at 10:00am
Open to the Public
$199 or 249 per hunter (depending on the date)
-Members receive their respective discount but non-peak discount is already applied to the price.
Call Office to Register
(402) 374-1765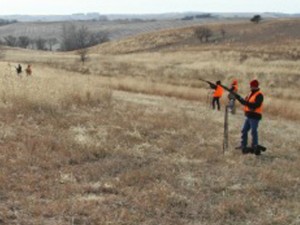 ---
If you like to shoot, our European Hunts are just your ticket. They are a great time to be had with friends and family or to entertain your business clients/employees. They are excellent for team building and for those who aren't able to field hunt. The shoots can also be easily combined with lunch, dinner, appetizers and/or drinks to continue the fun and camaraderie at our Orvis Endorsed Facility.
The event requires a minimum of 12 shooters or a maximum of 36.
Our European Hunts typically comprise of the release of anywhere between 200 and 600 pheasants. Those birds are divided and released during 12 different rounds from a centrally located location.
The hunt consists of 12 rounds and 12 different shooting locations. A siren will rotate the hunter(s) throughout all 12 stations during the shoot.
The location features a brushy thicket atop an enormous hill that looks over our beautiful and scenic Loess Hills landscape and into Western Iowa. Because of the unique location, you and your buddy can work together to bring down those quick and high-flying roosters or give each other a hard time when you miss those slow and steady incomers.
Equipment Needed:
Shells… lots and lots of shells. Please also come with a clean gun. You don't want to be having gun problems during this hunt. Rental guns and ammunition are available in our pro-shop. Licenses and permits can be acquired upon arrival. Get ready for the action; these are the ultimate experiences in wing-shooting!
Coming Soon:
School bus ride to the field!
---
Pheasant Bonanza is located near the Tekamah Municipal Airport - TQE (15 minutes distance) and Eppley Airfield - OMA (Omaha, NE - 1 hour distance).
Pheasant Bonanza is your Premier Hunting Destination for all your Midwest hunting needs in Nebraska and now Kansas! We offer a variety of packages including Pheasant Hunting, Waterfowl Hunting, Turkey Hunts, Deer Hunts, European Hunts, Day Hunt Packages, Overnight Hunt Packages, a Five Star Lodge, and Ice Fishing.